Send winning sales quotes in seconds.
B2B buying behaviour has changed, and so should your quoting process. Change the way you Quote. Change the way you grow.
All plans include

Unlimited Users

Dedicated with

Fanatical Support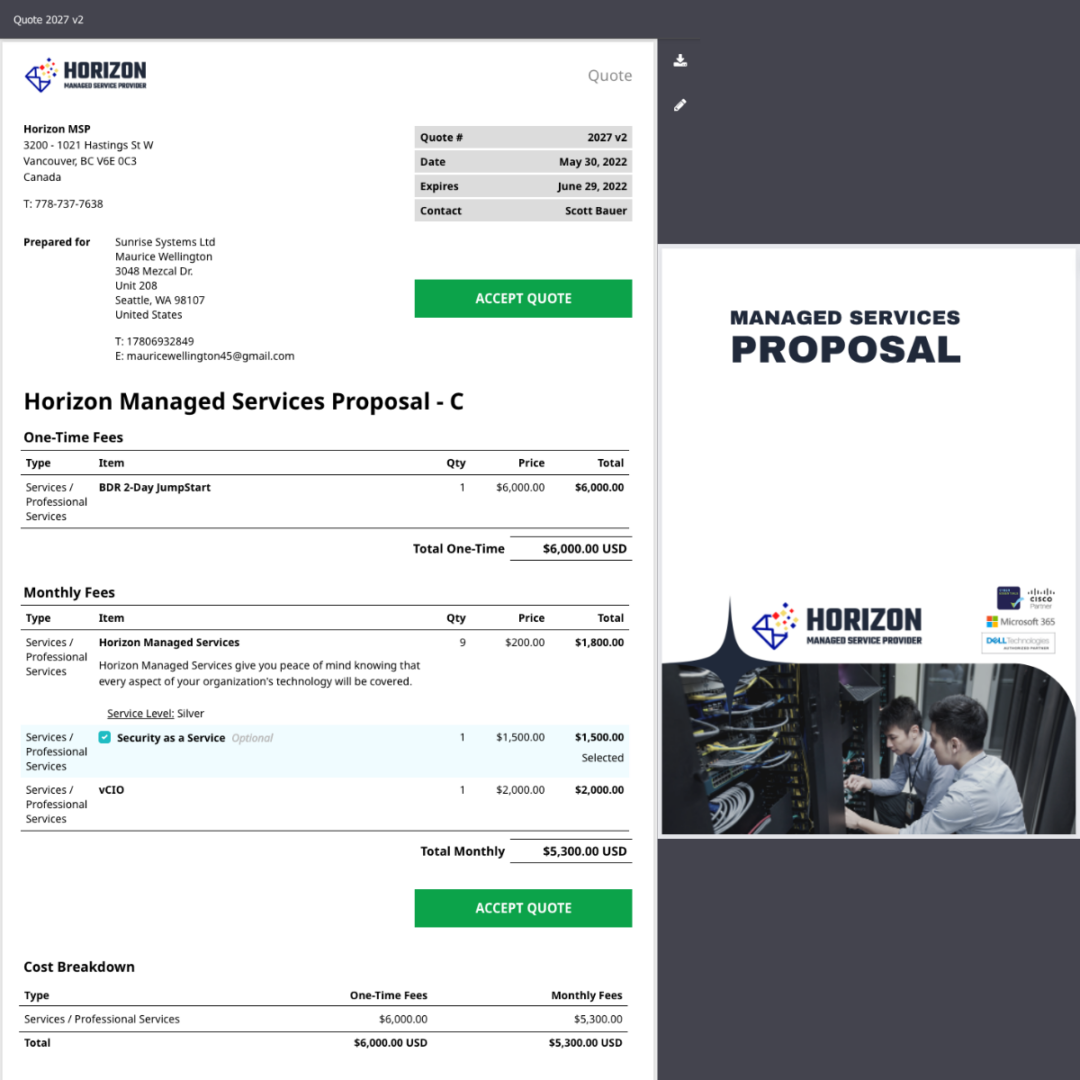 Why add Quoter to your business?
Configure, price, quote, and get paid faster with Quoter.
1. Boost Revenue
Quote with dynamic bundling and upselling.
2. Remove Bottlenecks
Add your entire team without buying more licenses.
3. Manager Approvals
Set custom rules and have autonomy with oversight.
4. Better Organization
Simplified quote and proposal templates.
5. Cloud Hosted
Web-based quoting software to access from anywhere.
6. Speed Matters
Increase your conversion rate by sending quotes faster.
7. Sales Enablement
Data to identify your best client relationships.
8. Close More Deals
Customers can approve, sign, and pay without sending an email.
Trusted by IT service providers around the world


Thinking of Quoter as the Sales Ops role in your business
Small-medium sized businesses may or may not have someone dedicated to Sales, let alone a Sales Ops position. This creates gaps in the organization where the people on the team are not fully aware of how they could be doing their job more effectively.
Quoting Software
Built to exceed your customer expectations
Improve service quality by introducing a new sales workflow.
Smart Templates & Configurable Products

Configure your templates once to set it and forget it. Your team will be able to produce consistent, professional quotes without any effort.

Recurring Services

Easily quote recurring services at the frequency you choose and accept online credit card payments without lifting a finger.

Fast & Secure Hosting

Quoter utilizes a world-class data centre to ensure our quoting software is always blazing fast, reliable, and secure.

Quote Tracking

Time your follow up by knowing exactly when your quotes are opened by email.
Optional Quantities
With optional quantities, each line item on a quote can be published editable. When your customer views a quote, they are able to modify the quantity of a given line item before accepting.
Increase customer lifetime value
Adding cross-sell and up-sell services within the quote itself help educate your customers and provide them with the best-fit solution.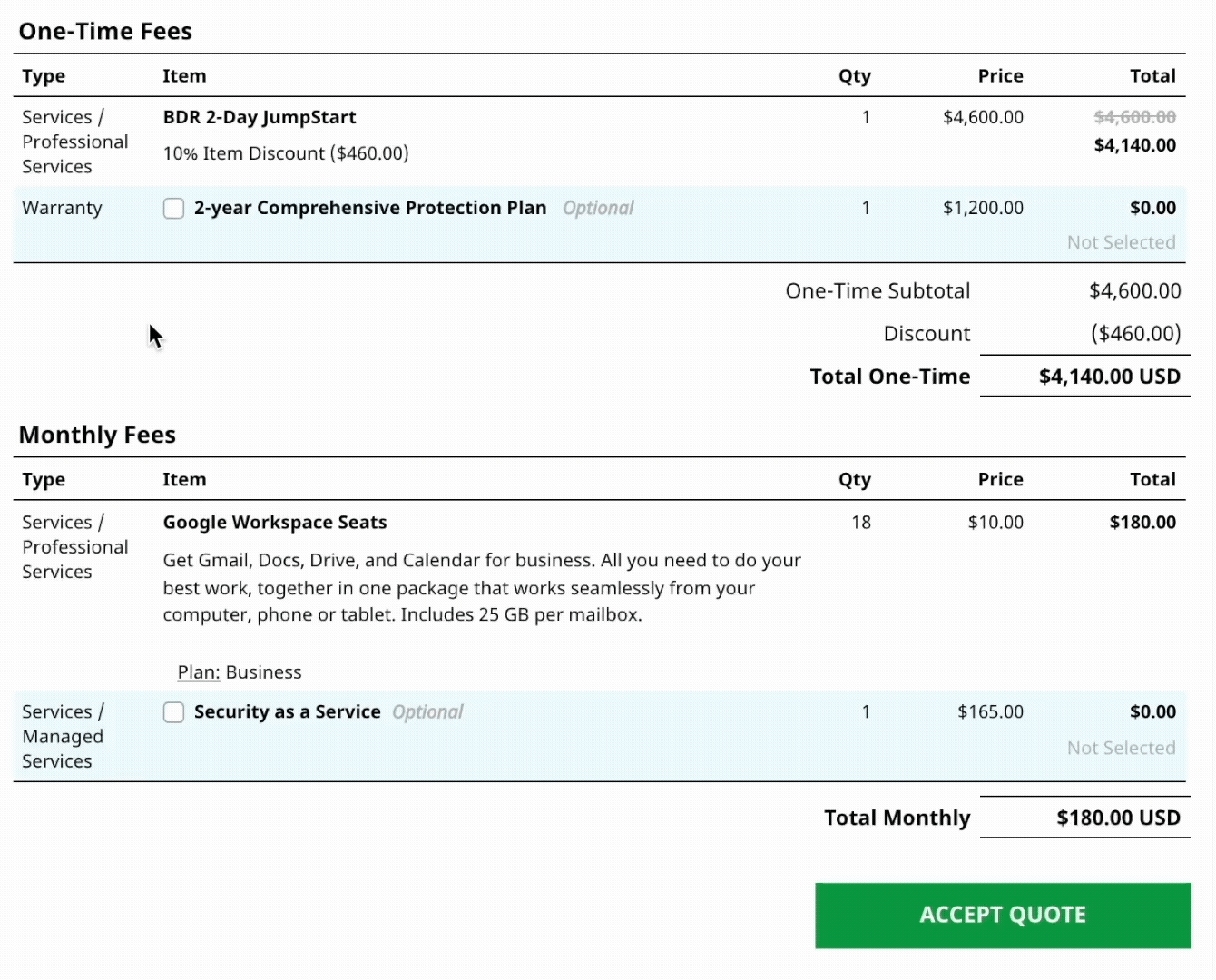 Features that matter
Growth, customer experience & operational efficiency
Quoter is a purpose-built quoting tool that will allow you to empower your team, eliminate bottlenecks, and supercharge revenues.
E-Signatures, Agreements & Payments
Capture the sale when purchase intent is at its peak.
"Fantastic and simple quoting platform"
Quoting software built to work with your current tech stack
"Quoter completely changed our experience and process with quoting which has saved countless amounts of time over the last 2 years. We have recently migrated from ConnectWise PSA to Autotask PSA and the Integration with both products is excellent."
With integrations specific for IT Service Providers
Building a quote will automatically populate your customer data from your PSA or CRM. Product data can be searched and added while building the quote from your distributor.
Add your entire team with one flat rate
Remote team collaboration should not be limited by per-user pricing. Add everyone and empower more staff to send quotes as a distributed team.
"Quoter is an intuitive, easy-to-use tool that makes quote building quick. Client engagement tracking improves follow-up/communication decisions. Easy template creation and updating processes make it easy to continually keep quotes and agreements relevant and save time on future quotes."
Getting Started with Quoter
We're here to help at each step to make sure you get up and running quickly.
Contact us
1. Service Implementation
Our success team helps with importing your products and services, proposal styling, account settings, and integrations.
2. Your team is added
A team training session is included to go over account tips and best practices. The training session is recorded and sent to you afterwards.
3. 90-day check-in
We touch base roughly 90 days after onboarding to ensure your business is getting the most out of Quoter.
A place where customer feedback and support is encouraged
At Quoter our customer support is treated as a feedback channel for us to continually improve. We prioiritze the close working realtionship we have with our partners.
Connect with our Customer Support
"Our experience with Quoter has, overall, been excellent. It is cost-effective, integrates well with our PSA (Autotask) and allows us to quickly and easily generate large volumes of quotes. We are extremely pleased with the support, and the product works well for our use case."

★★★★★
Mark J., Senior Technology Consultant in the United States
Quote Tracking for Better Win Rates in B2B Sales
⚠️ Warning: If you are not using Quoting Software to track your quote activity, your business may have outdated organizational workflows.
View Details