How it works
Quoter simplifies your sales quoting process
Minimize data entry with smart, reusable templates
Quoter allows you to standardize your product, pricing, and quotation information with smart, reusable templates. Quoter then does all the heavy lifting for you, allowing your sales team to create comprehensive, accurate sales quotations in seconds.
"Being able to quote an entire project, contract or hardware within 60 seconds or less is a huge bonus for us. Using their templating system and custom items we can send out an agreement for a new client within one minute without leaving the platform."
Create & email beautiful, professional sales proposals
Sales quotes are branded to your company in an elegant and professional proposal which is sent to the customer via email. Email delivery and opening can be tracked by you so you can be sure that your proposal is received by your customer.
Automate pricing with configurable products & services
Create configurable products and services to automate pricing calculation based on the customer's needs at the time of quote creation. Quoter makes it easy to create user-selectable options, such as size, model, plan, material, or any other variable that would affect the configuration and pricing of a product or service.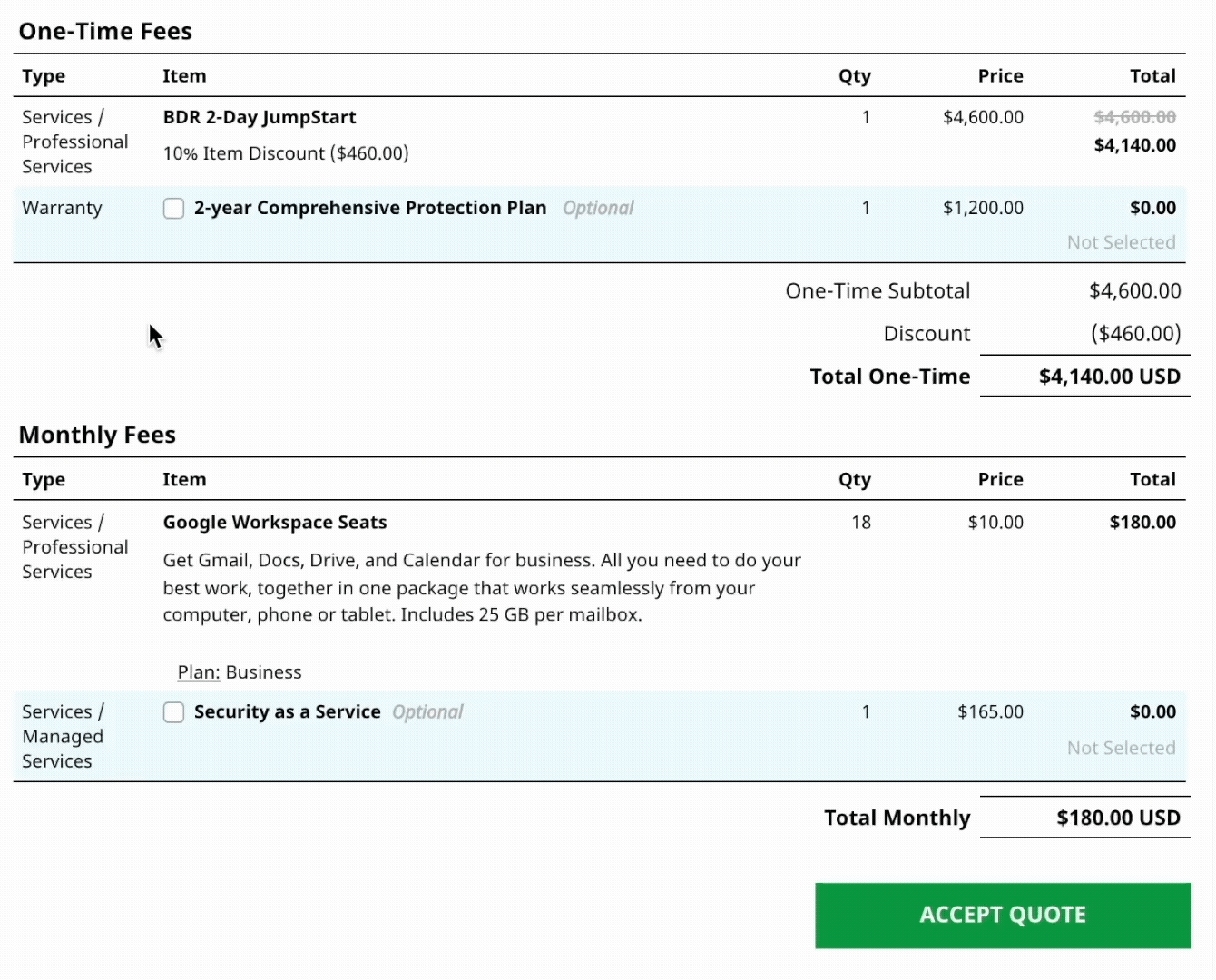 Close deals faster with electronic quote acceptance & signatures
Once a customer is ready to order, they can accept and sign the quote electronically.
Quoter's online payment processing also allows you to accept secure online payments by credit card and integrate with Quickbooks.
You can choose whether to require payment in full, or collect a deposit for larger quotes.
Product Highlights
An optimized workflow for B2B sales
Save valuable time on your sales quoting process

Save up to 90% of time spent on sales quotes and proposals with Quoter's smart template system.

Retain control of your sales team with reporting and analytics

Monitor quotes, cost and margins, and performance by salesperson to ensure consistency and maximize profit.

Organize and track your quotes in one place

Never lose track of a quote or lead again. Management will love Quoter's powerful searching, filtering, and reporting features.

Improve consistency across your sales team

Standardized quote templates will help your sales team become more consistent, professional, and efficient.
Getting Started with Quoter
We're here to help at each step to make sure you get up and running quickly.
Contact us
1. Professional onboarding
Our success team helps with importing your products and services, proposal styling, account settings, and integrations.
2. Your team is added
A team training session is included to go over account tips and best practices. The training session is recorded and sent to you afterwards.
3. 90-day check-in
We touch base roughly 90 days after onboarding to ensure your business is getting the most out of Quoter.
Book your free demo with us today
See how Quoter can work for your business.