MSP Quoting Software
Sales enablement for the IT industry
You've got hardware, software, and managed services to sell. Quoter helps managed service providers sell it faster.
Integrations specific for Managed IT Service Providers
Building a quote will automatically populate your customer data from your PSA or CRM. Product data can be searched and added while building the quote from your distributor.
Remove manual data entry from the sales equation
Quoter is an MSP Quoting Software that lets you integrate with multiple web apps simultaneously. For example, you can have one Integration for ConnectWise Manage and another for Ingram Micro. Each time a Person, Quote, or Transaction (in some cases) is created in Quoter, the data is automatically pushed to each integration. Quoter becomes your platform for all quoting activity.
Increase your conversion rate through better proposal design
Quoter's fully-customizable template engine is tailored to MSPs so you can create consistent, professional quotes in seconds. Standardize quote and proposal content, product configurations, and pricing for a seamless quote-to-cash workflow.
"Having worked on the sales side of the tech industry for 15 years I have worked with thousands of companies in the past. Quoter and their team were one of the best overall experiences I have had from start to finish. If your company is in the need of quoting software I highly recommend giving this software a shot."
Boost customer lifetime value
With Optionals, you can add cross-sell and up-sell services within the quote to inform your customers and provide them with the best-fit solution.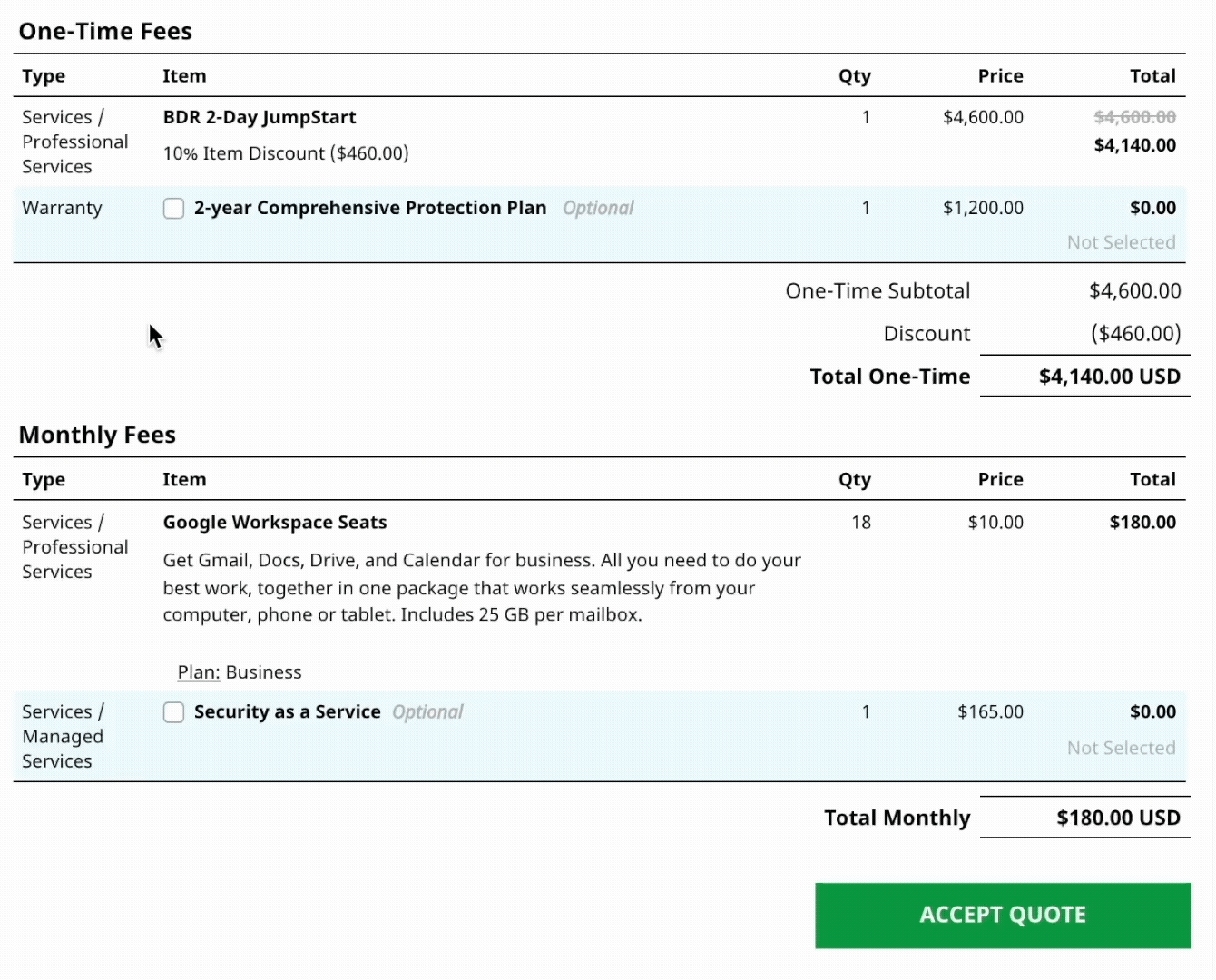 MSP Case Study
IT Goat
IT Goat is an IT Managed Service Provider based out of Dallas, Texas. They provide wide ranges of services to businesses across the United States in different industries. Onboarding new employees can be a time-consuming process for management, and new employees are prone to errors while they get used to the way things are done in their new workplace. IT Goat came to Quoter looking for a system that new salespeople can learn quickly. A simplified system that's organized with templates would allow a more self-serve onboarding for new staff rather than coordinating multiple training sessions over the first few months.
20-50 Team Size
United States Location
Managed IT Services Industry
1-2 years Using Quoter
After Implementation
It has been over a year since IT Goat introduced this new quoting system to their business. Creating quote templates lets IT Goat standardize different job types so that even the newest of hires can craft well-organized proposals quickly.
With Quoter's unlimited user-pricing, IT Goat can grow their team without paying per-seat. Anyone from the business can be added with one of 6 user levels to control access.
The Result?
Increased MRR by over 300% within the first year.
"Overall, it shortened the time to get a salesperson quoting on their own while reducing errors in the proposal process. We were also able to add on more sale people quicker while monitoring their sales proposals through the manager reporting to ensure the proposals were accurate."
Over 1500 IT Service Providers are winning more deals with Quoter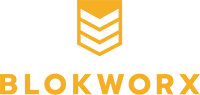 Getting Started with Quoter
We're here to help at each step to make sure you get up and running quickly.
Contact us
1. Professional onboarding
Our success team helps with importing your products and services, proposal styling, account settings, and integrations.
2. Your team is added
A team training session is included to go over account tips and best practices. The training session is recorded and sent to you afterwards.
3. 90-day check-in
We touch base roughly 90 days after onboarding to ensure your business is getting the most out of Quoter.
A place where customer feedback and support is encouraged
At Quoter our customer support is treated as a feedback channel for us to continually improve. We prioiritze the close working realtionship we have with our partners.
Connect with our Customer Support
"Our experience with Quoter has, overall, been excellent. It is cost-effective, integrates well with our PSA (Autotask) and allows us to quickly and easily generate large volumes of quotes. We are extremely pleased with the support, and the product works well for our use case."

★★★★★
Mark J., Senior Technology Consultant in the United States
One price, unlimited users
Remote team collaboration should not be limited by per-user pricing. Add everyone and empower more staff to send quotes as a distributed team.
Cross-sell & Upsell Opportunities to Maximize Customer LTV
Upselling and cross-selling are key to your successful B2B sales strategy
Read Post